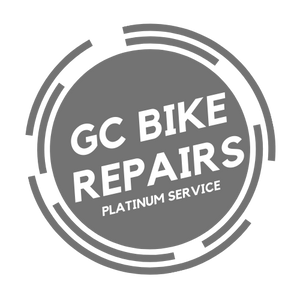 Platinum Service
£25000

£250.00
Vat included.
Shipping
- Postage £3.49 for items up to £40, postage free for all orders above £40. (Wheels, bikes, frames and turbo trainers £7.49 postage)
---
---
The platinum service is our ultimate service for your premium road or off road bike.

Your bike will be completely stripped to the frame and forks. The frame and forks will be checked for issues, degreased and cleaned.

All components will be degreased, cleaned and relubricated.

All interior cables will be replaced (outers if required)

All sealed bearings* will be replaced - including hubs, bottom bracket** and headset.
Brake pads will be replaced with Elvedes high quality pads
Hydraulic brakes will be bled front and rear.

The bike will be fully rebuilt and all elements will be refitted, adjusted and checked for accurate function.

If any parts additional to the service are required we will contact you to get approval prior to fitting.

Once all check and adjustmens are complete a full safety check and road test will be completed to ensure everything is working well.
8 Hours 
NOTE : WE WILL REQUIRE YOUR BIKE FOR A FULL WEEK FOR THIS SERVICE. 

*Bottom bracket bearings will be replaced where possible - If the whole unit needs replacing this will be an additional cost but we'll let you know. 
** Pivot bearings for mountain bikes not included - these will be priced additionally if required.
Platinum service does NOT include suspension fork service.
To book a service or repair you can either:-
Book online at: https://gcbikerepairs.com/pages/book-your-service-online-now
Call us on 02393 552660